The Snow Plow Show is a prank call show hosted by RedBoxChiliPeper. It's released at least twice a week and features new prank phone calls in each episode.
This show originally began as a half-hour long video series that was posted on YouTube. The show featured prank calls by RBCP, Carlito, Rappy McRapperson, Samantha and others. After 3 episodes, RBCP realized that making a video based show about prank calls was way too much work and interfered with his true passion of smoking weed and boozing it up all day, so he quit doing it. The video show began on September 5th, 2012 and the last episode was released on November 14th, 2012.
After taking a few months off, RBCP began doing live audio shows again. Beginning in January 2013, RBCP began doing random shows on both PLA's and Madhouse Live's shoutcast streams. The names of the shows varied each time with titles like The Madhouse Pre-show, 'Roy and Staci in the Morning', 'The Brent Westwood Precum Show', 'The Generic Tortilla Chips and 4-Loko Show', and 'The RBCP Show'. None of these shows have anything to do with The Snow Plow Show.
The first Snow Plow Show in the new format happened on May 28th, 2013. It was called While My Keytar Gently Weeps for some reason. While it's not identified as The Snow Plow Show in the show, in the following show that happened 3 days later, RBCP did a morning show and said, "I forgot to mention on the last show, this is called The Snow Plow Show now." Shows have happened at least once a week since then.
The Snow Plow Show got its name from a comic strip at ToothpasteForDinner.com with the caption: "For Sale. Snow Plow. Works good. Should rhyme but doesn't." This was explained on May 4, 2015, Snow Plow Show episode named Adult Afternoon Daycare (Listen).
Since 2014 RBCP has made 'Secret Shows' of The Snow Plow Show available to members of the 'Elite Cactus Squad' via monthly contributions. They include high-quality audio feeds, exclusive episodes, and occasional videos of the live shows.
Hosts
Regular callers
Irregular callers
Trivia
Episodes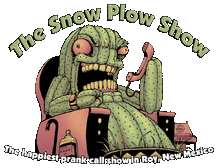 External Links